RSS Address: http://www.facefinder.net/rss/Facefinder.xml

Additional information -

How it works: Simply put, RSS is a web address/page that delivers the latest news to your computer without the need of email. If you follow the simple instructions below, your computer will 'request' data from us daily if not more often and we will deliver any new information/updates to view at your convenience.
More Specific: If you don't care how it works...then we invite you to skip this part and jump right down to the 'Instructions' portion.
RSS is an XML file that is updated every time we have new information to share with our viewers. Until now, we had to rely on email that can get caught in filters and never reach you. With RSS we wipe out the need to email (though we still will). This simple XML file is picked up by and parsed (or read) by a free, non invasive program (mentioned below) and displayed for you like an email or web page WHENEVER you choose to read it.
We can update our RSS file 8 times a day and you can tell your rss program to check us as much as you wish...if we have new data...you'll get it.
Currently we are only posting news and information, but Facefinder.com will soon be working on ways to deliver new postings and notifications of new members, both talent and industry professionals.
Instructions: 3 simple steps
1. Highlight and copy the following url: http://www.facefinder.com/rss/facefinder.xml
2. Download 'FeedReader' from the following url (it's free): http://sourceforge.net/project/showfiles.php?group_id=70179&package_id=74816&release_id=323066
3. Once installed, run it and Click 'File/add feed' and Paste the url you copied from above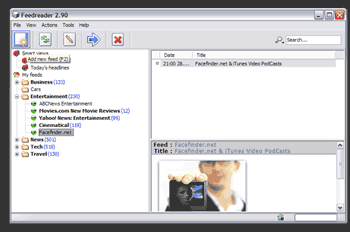 Screen shot of FeedReader -->
You Are Done!
You may check out your settings if you wish, but FeedReader will check your rss requests on a regular schedule and have little notes for you that pop up in the bottom of your screen